The Artesian water that flows from the ground into the hot pools around Moree last saw the light of day 1,000,000 years ago as rain in south-eastern Queensland. Ever since then the water has been flowing through the porous Artesian rock basin being clarified and filtered. As it travels it also picks numerous minerals and salts until it surfaces again as a virtual multivitamin in liquid form.
The Great Artesian Basin (GAB) is one of the largest and deepest underground freshwater resources in the world. It lies below 22 percent of Australia, extending into Queensland,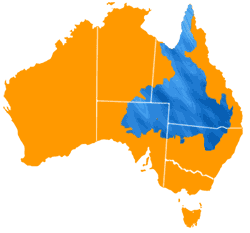 South Australia, NSW and Northern Territory. Nearly 25 per cent of NSW is covered by the GAB.
The Basin is a highly valued water resource which provides diverse benefits and opportunities. Basin springs have enabled Aboriginal and Torres Strait Islander people to occupy dry inland areas of Australia for more than 40,000 years, and communities maintain cultural, social and spiritual connections with Basin springs and their associated ecological communities and landscapes.
The first bore sunk into the Great Artesian Basin was on Kallara Station about 180 kilometres west-southwest of Bourke in 1878 where water was struck at 44 metres.
The Moree bore was sunk in 1895 by Canadians, Crawford and McCray using the Canadian pole system of drilling which involved 40 foot Oregon poles being screwed together to turn the drilling head. After they had drilled a few feet the poles were brought up and unscrewed one at a time so the sand pump could be lowered in, on the end of the Oregon poles which all needed to be screwed together again. Then the process was repeated all over again.
The Moree bore starting flowing on the 9th November 1895; the original bore was located on the same spot the Moree Hot Artesian Pool operates from to this day. 607,247 gallons (2,700,000 litres) a day gushed from a depth of 2793 feet (951m) flooding the nearby stores, including the newly constructed Victoria Hotel which still stands across from pool.